News from 2022
December 2022 - Internet Tower has been Approved
NextLink agreed to install a dedicated Internet tower for Edgewater. Fiber is not an option at this time. Nextlink would be sitting on the project waiting on a viable return on their investment. Since there is no preferred timeline for lot owners to build, from NextLink's standpoint, it makes sense for them to go with wireless at this point. NextLink's engineer established the best location for that tower. It will be right inside of Gate 3 in the common area lot owned by the HOA. It will be 80 feet tall. It will have a small privacy fence and display some nice landscaping.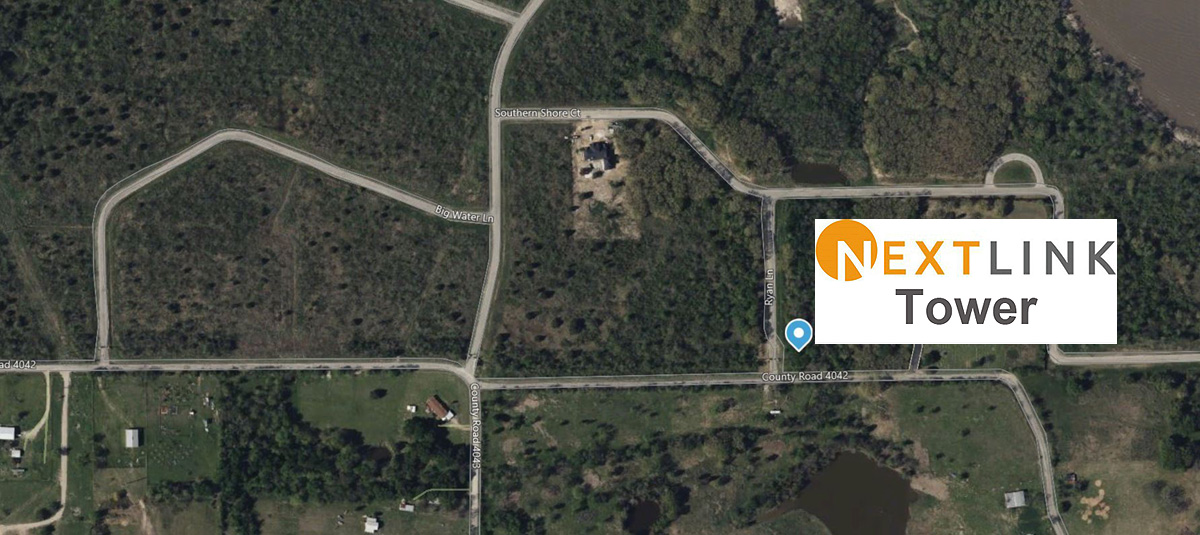 November 2022 - Clubhouse Construction Bids
With the first installment of the special assessment already in the bank, and with the second installment about to be collected over the next few months, the board of directors decided that in early 2023, there will be enough money in the bank to start building the clubhouse building itself. Therefore, Texas Star solicited bids for construction from 5 general contractors. The deadline for those builders to submit their bids is November 30th. Once all bids have been submitted, the board of directors will meet and vote on the winning bid. We hope we can get the construction project started before the rainy season in April and May.

October 2022 - Annual General Meeting
Edgewater held its annual general meeting on Saturday, October 22nd, 2022. Several members attended in person and several more sent their ballots/proxies by mail. Food and beverages were provided for all those who were present. After a brief introduction by the president of our 2 guest speakers, Sheriff Bryan Beavers and County Commissioner-Elect Tommy Moore, both gentlemen spoke and answered questions. The minutes of the last meeting were then read, reviewed, and approved. Next on the agenda, was an update of the many projects that are taking place at Edgewater. The Election of the boards of directors followed. Two of the board members were up for election this year. Two new directors were elected: Brandy Coogler and Joanne Claeys, both of which won a 2-year term. The account manager was next. She gave the financial review, presented the new budget for 2023, and answered questions from the attendees. Finally, the new gate code to be used on all entrances was announced. It will take effect on Tuesday, November 1st, 2022. The new code will be emailed in the next couple of days to all members who were not able to attend the meeting.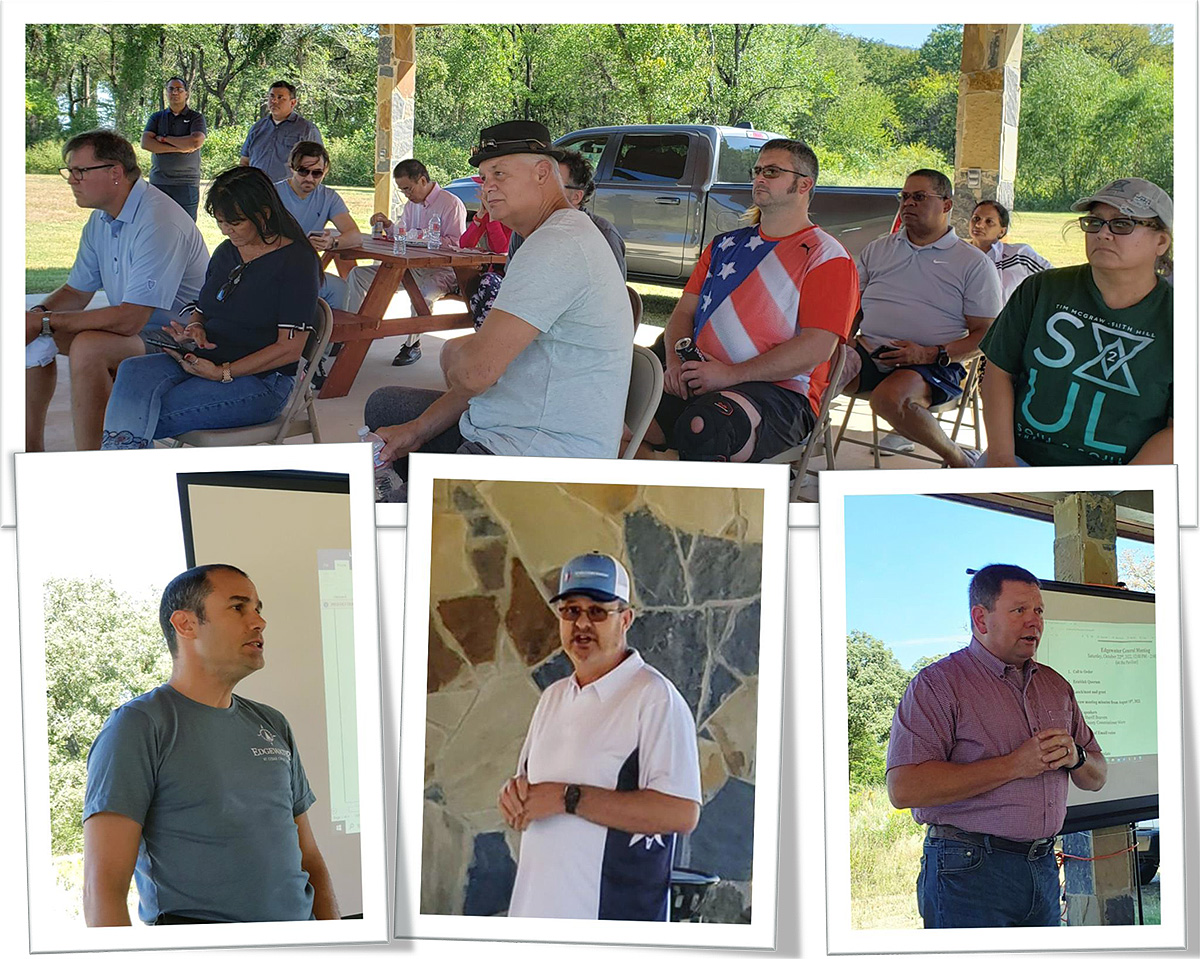 September 2022 - Boat/Trailer Storage Area is Done
Signup is available today. If you are interested in storing your boat/trailer in one of our spots, please visit our Boat/Trailer Storage page on this website under About > Boat/Trailer Storage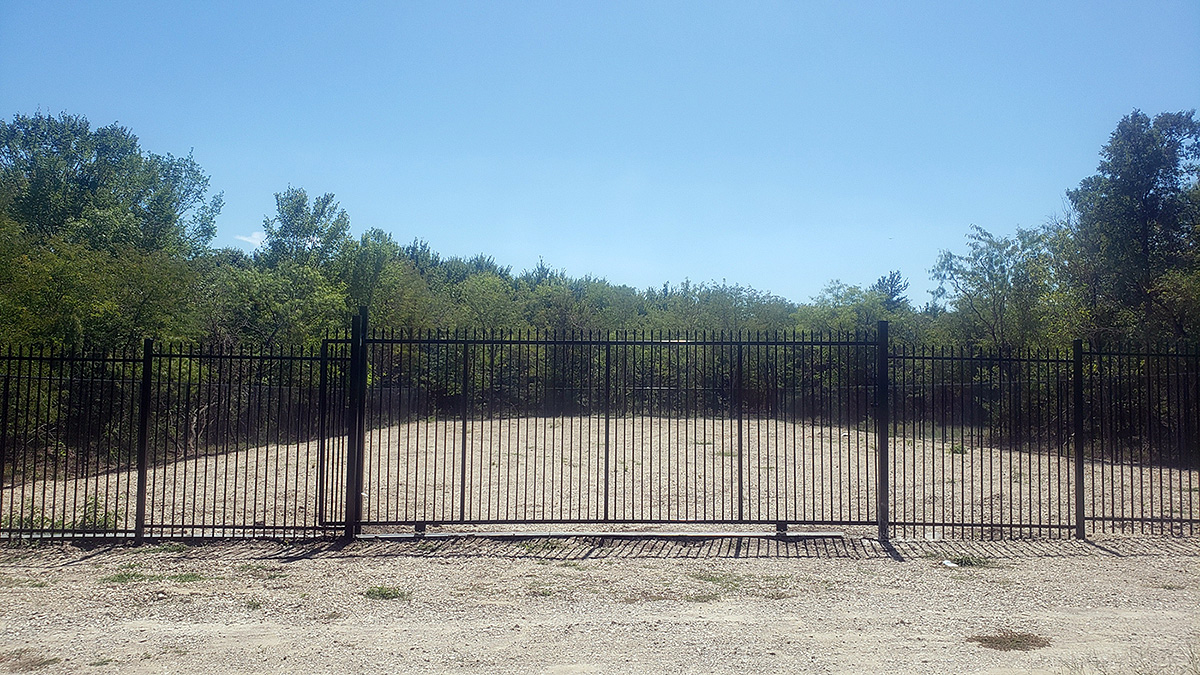 August 2022 - Addresses and Road Names Update
Since Edgewater is a relatively new subdivision, the roads and addresses were not listed on the map. Therefore, many people were having trouble finding us on the map or their GPS navigation system. Whether it's property owners, real estate agents, contractors, or delivery trucks, finding someone's house was a definite challenge. Therefore, several emails were sent to Google and Bing. Several more edit requests were made. But finally, Edgewater roads and property address now show on both Google maps and Bing maps.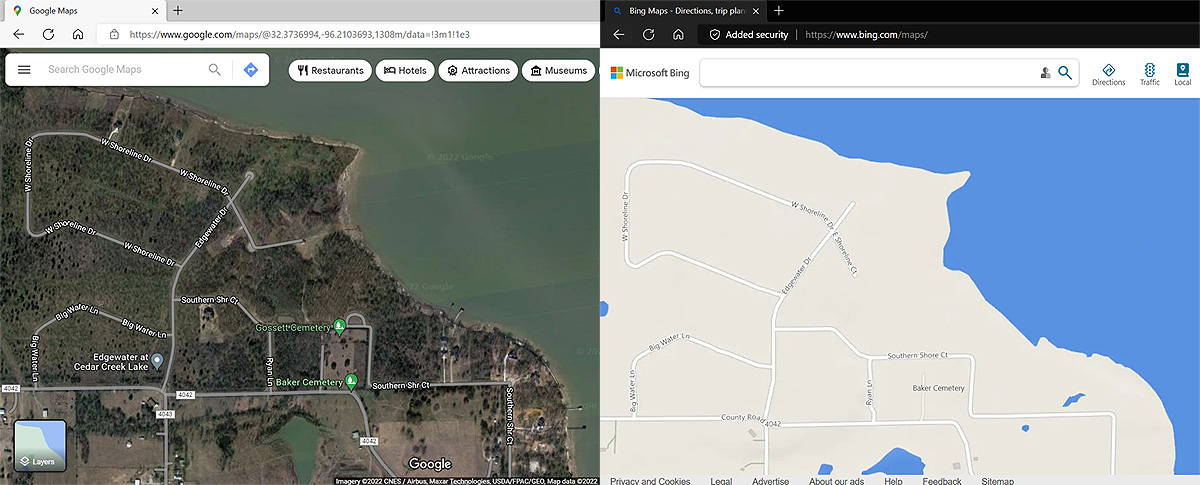 July 2022 - Boat/Trailer Storage Area Signup is Now Available
Reservations and signup is available today. If you are interested in storing your boat/trailer in one of our spots, please visit our Boat/Trailer Storage page on this website under About > Boat/Trailer Storage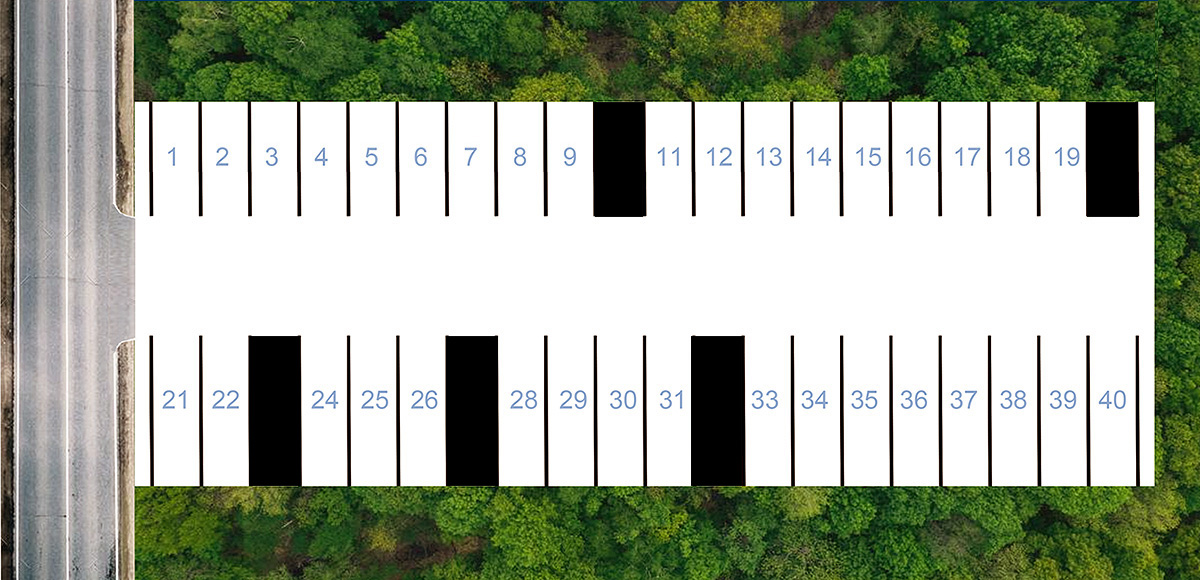 June 2022 - Boat/Trailer Storage Area got Paved
After several months of delay (due to the weather), the boat and trailer storage area is finally paved with crushed rocks. The next step is to have it fenced and have a sliding gate installed.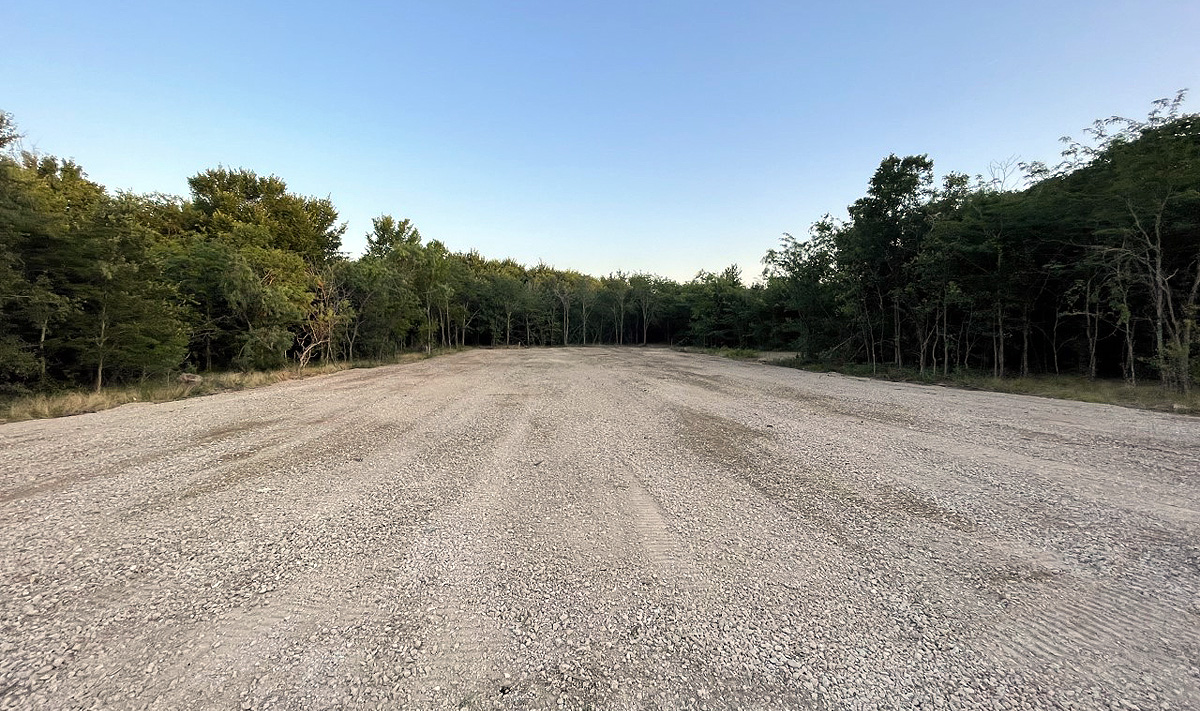 May 2022 - New CareFlite Membership
Living at Edgewater far away from Dallas and its hustle and bustle and its problems doesn't mean you don't get fast and efficient transport to the best medical facilities (if you ever should need them).
Edgewater has partnered with CareFlite to offer its members a helipad landing site for CareFlite's emergency transport helicopters. Moreover, your HOA membership includes a CareFlite Air & Ground Ambulance Service membership at no extra cost to all residents. This CareFlite membership protects Edgewater HOA members (and their family members living in their household) against out-of-pocket costs for medically necessary transports.
You should have received your email invite to sign up online. The link and QR code are also listed on TownSq for your convenience. Please sign up to take advantage of this amazing amenity.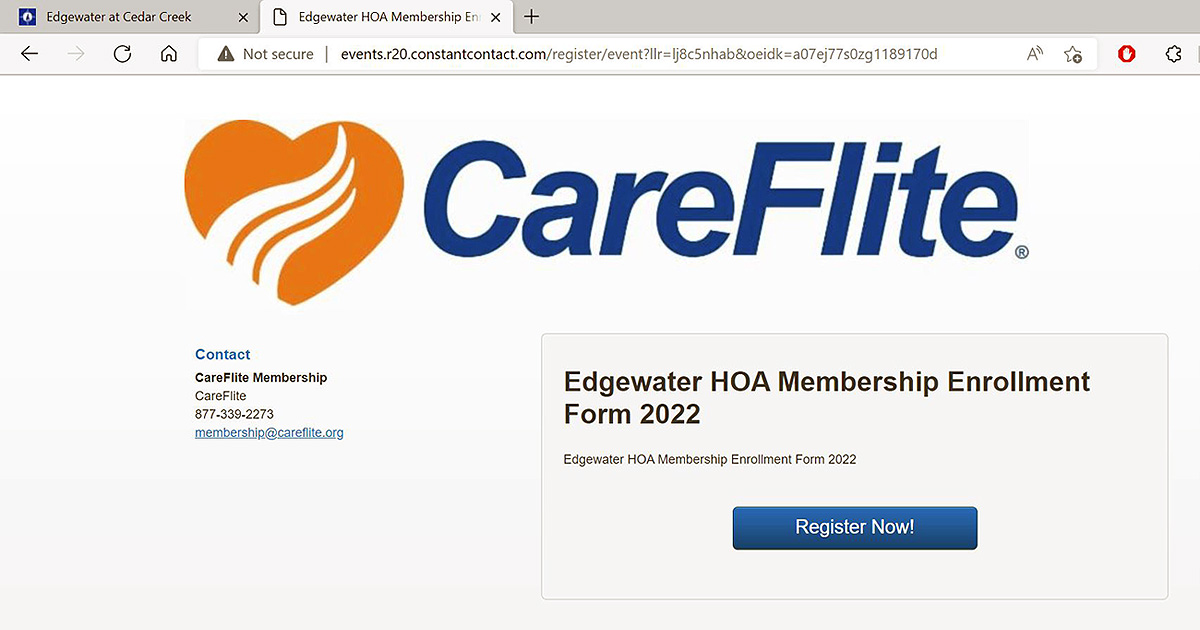 April 2022 - Road Repair
Edgewater's 5-year-old roads have started to show signs of aging. One section on Southern Shore Court had gotten so bad, it was almost impossible to drive across it. Therefore, our asphalt contractor was hired to mill out all of the holes and bad sections in the affected area, mix lime with the milled asphalt to use as a base, compact with a vibratory roller, lay 3 inches of hot asphalt mix, and finally compact with the roller for a smooth finish. Moreover, hot tar rings were added around to keep water from penetrating.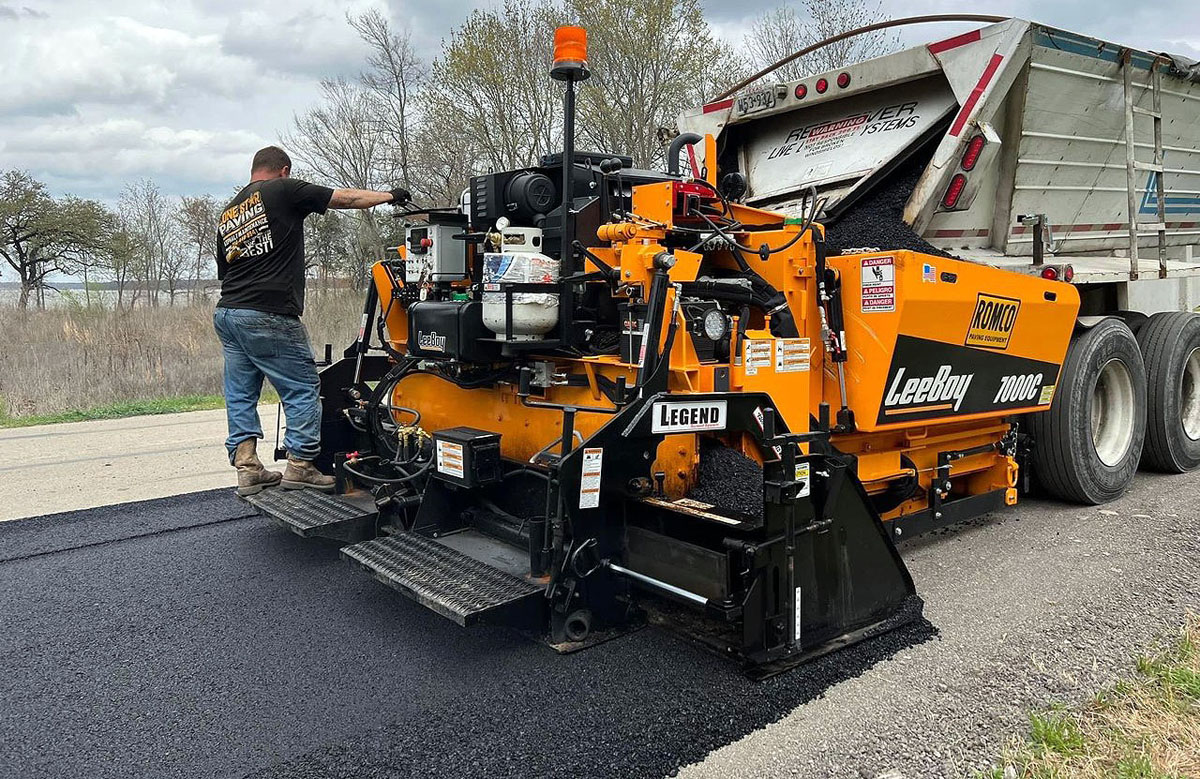 March 2022 - New Weather Station
One of the homeowners purchased an Ambient Weather WS-2902C Smart Wi-Fi Weather Station with Remote Monitoring and Alerts and installed it at his house. This homeowner also agreed to let the whole subdivision use the live data that this weather station produces. The weather data it captures is surprisingly different than what the general weather websites and apps list. The wind speed and direction, as well as the amount of rainfall at Edgewater can be significantly different than in the city of Kemp or in the 75143 zip code area.
For the live data feed, please refer to our Weather Station page on this website under About > Live Weather Station Data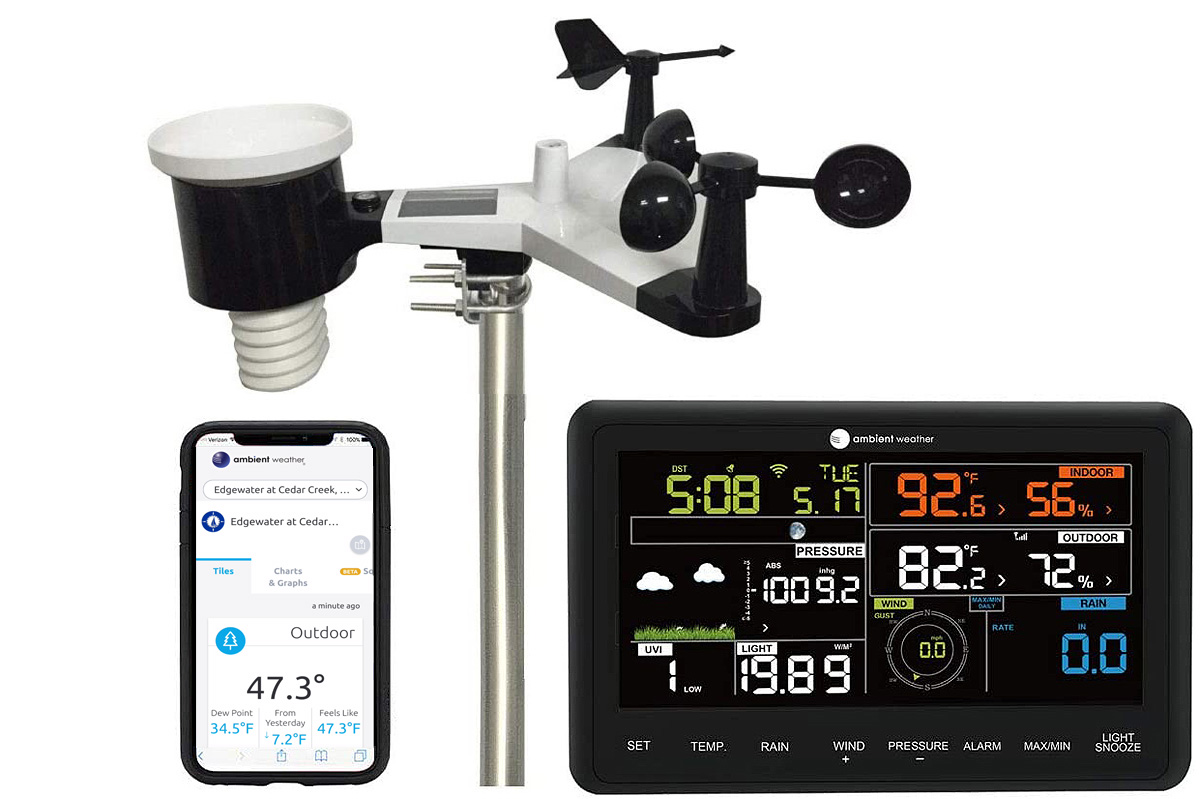 February 2022 - Clearing of Land for the Boat/Trailer Storage Area
The developer had promised that Edgewater will contain a boat storage area. It was listed on all the maps. However, for a reason or another, this promised boat and trailer storage area was never developed. This is a great amenity for the property owners to have (considering our CCRs do not allow anyone to park their boat or trailer on the street, on the driveway, or in the yard).
To fulfill the developer's promise, and to provide a boat/trailer storage area at a reduced cost for the Edgewater members, the HOA hired a contractor to clear an area of 80 feet x 215 feet. This area will provide storage for 40 boats and/or trailers. When it's all done, it will be paved, fenced, and have a keyed access gate.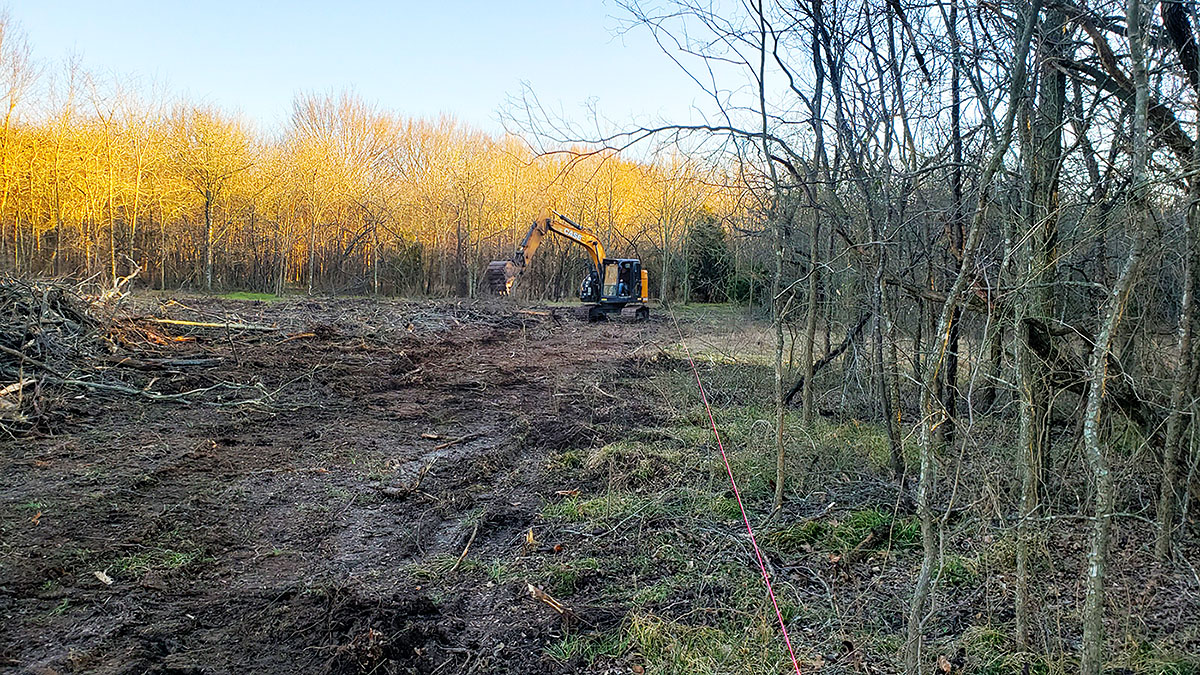 January 2022 - New Trail Map
Whether you want to take a hike, jog, walk your dog, ride your bicycle, or drive your golf cart, we have 5 trails for you. Each trail is marked by a colored arrow (green, yellow, blue, red, and orange). Those same arrows are also displayed every few yards on a tree along the trail in a way that will help you stay on the trail. Finally, those same arrow colors are mapped on the map below to indicate each of the following trails:
Green: Buckthone Trail (about 590 ft)
Yellow: Honeylocust Trail (about 965 ft)
Blue: Mulberry Trail (about 685 ft)
Red: Red Cedar Trail (about 860 ft)
Orange: Sycamore Trail (about 1,300 ft)
More details about each trail can be found on a sign found at each end of the trail itself and on a link on this website under Maps > Trails Map